What you need to know about Google rising retail categories.
Google has stepped up yet again during this Covid-19 pandemic! They launched a new tool to help digital marketers stay updated on products that are currently in high demand. 
The Rising Retail Categories tool marks the first time of Google providing this type of insight. It focuses on the product categories people are currently searching for. Consumer interest is rapidly shifting from one month to another and, as Google notes, marketers are "hungry" for more data.
According to thinkwithgoogle.com, "Last month, there were spikes in search interest for household supplies and jigsaw puzzles as people spent more time at home." 
This month we've seen surging interest for sewing machines and baking materials in the U.S., and tetherball sets and chalk in the United Kingdom and Australia."
Up to this point, businesses have been using resources such as Google Trends, social listening, surveys, and their own proprietary data to understand changing consumer interests.
However, relying on those resources means you need to know what to look for in the first place.
Google couldn't have come up with a better name for this tool, as its very self explanatory.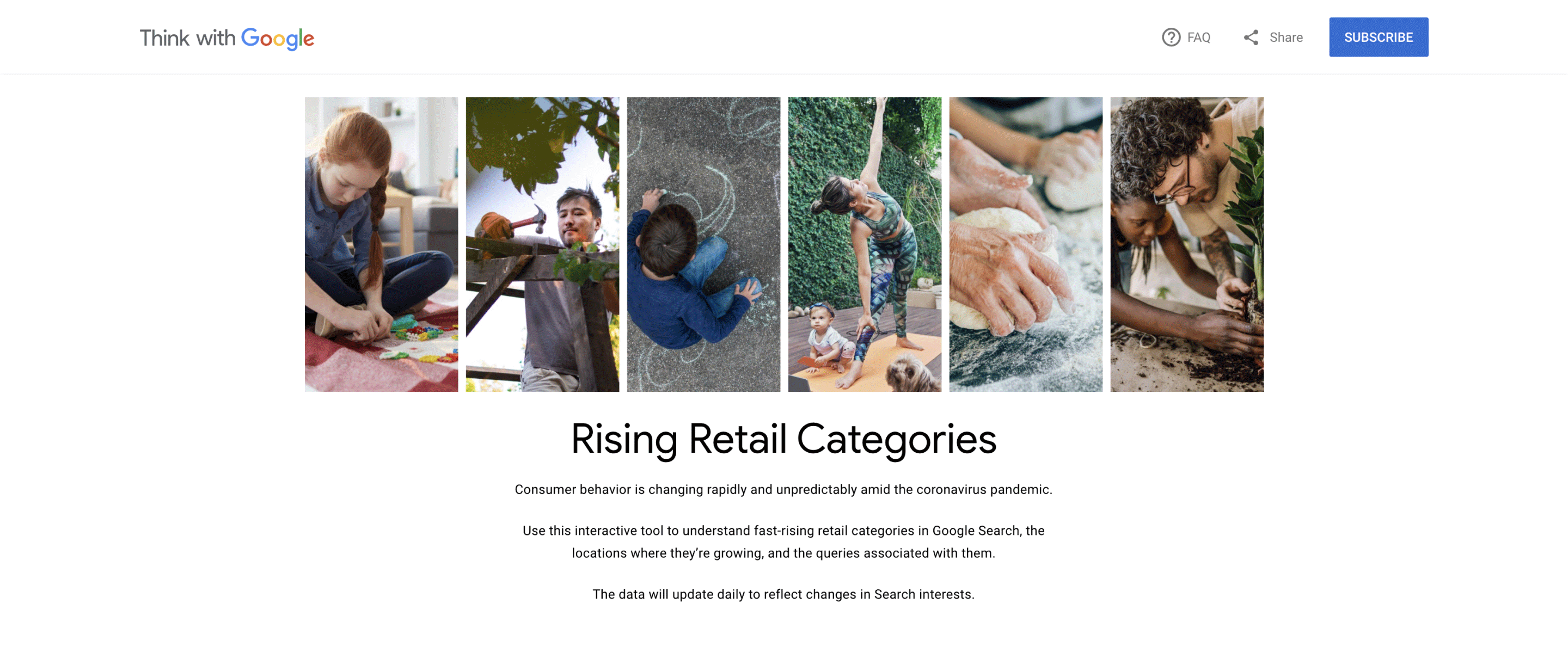 Use the drop down menu to filter categories according to country and time frame (weekly, monthly and yearly).
Table on the left shows the main trending categories. When you tap on these categories, it populates queries linked to that category on the right.
As you scroll down, you can find the number of search volumes according to each state..
The tool is almost just like Google Trend, the only differentiator from Google Trend is that it doesn't require you input a product or category keyword to churn out data.
The tool however, only provides data for searches in the United States, United Kingdom, and Australia. Hopefully this will get extended to more countries.
How to Use This Data
Google suggested to use these cases below as examples on how businesses or even creators can utilize the data in their marketing or content creation efforts.
Content creation: A cookware company noticed that "flour" was a growing category in the United States. The team was inspired to explore partnering with a famous local chef to create engaging content about recipes that incorporate flour. 
Promotion: A jewelry and accessories company noted rising interest in products in the "free weights" category, so the team thought they might partner with fitness influencers who could help promote their products. Similarly, an online business said it would regularly reference the data to inform which products to feature on its homepage throughout the pandemic. 
Product ideas: An apparel company with a fast and flexible production model said its team would use this data to inspire new product line ideas.