Shopping listing now free on Google!
Google has announced that shopping listings will be made free in the United States by the end of April. Merchants will now be able to have their products listed on Google's shopping tab regardless whether they advertised with Google or not. With the current ongoing coronavirus pandemic, people have turned to online commerce for the essential and non-essential. "While this presents an opportunity for struggling businesses to reconnect with consumers," explains Bill Ready, Google's President of Commerce. "Many cannot afford to do so at scale."  This move will greatly benefit the independent merchants who are not as discoverable when compared to the major online retailers. Google has also mentioned that they will also be expanding this globally by the end of the year. 
Furthermore, they made things extra interesting by partnering with the ultimate financial giant, Paypal to help expedite the onboarding process and make it easier for merchants to link their accounts. They will also be working closely with CMS providers such as Shopify and Bigcommerce, to help with the management of products and inventory.
As of 5 May 2020, the option to submit your products for listing is now available on the list of countries where Google Merchant Center was launched! 
Why the move by Google?
Apparently, this move has always been in the works. Its launch was catalysed by the coronavirus pandemic which has affected millions of businesses around the globe. We believe the move is an exceptionally strategic one. It helps businesses reach a much wider audience and also capitalizes on the exponential increase in ecommerce transactions due to the lock down in various regions. Google has been playing catchup in the product search race with the likes of major e-commerce platforms, Amazon and eBay. The move to make shopping campaigns free is a great way to acquire more usage ( More Sellers and Sku's listed ) and retain market share in the product search space. 
What does this mean for your business?
According to Ready, search results on the Google Shopping tab will consist primarily of free listings, helping merchants better connect with consumers, regardless of whether they advertise on Google.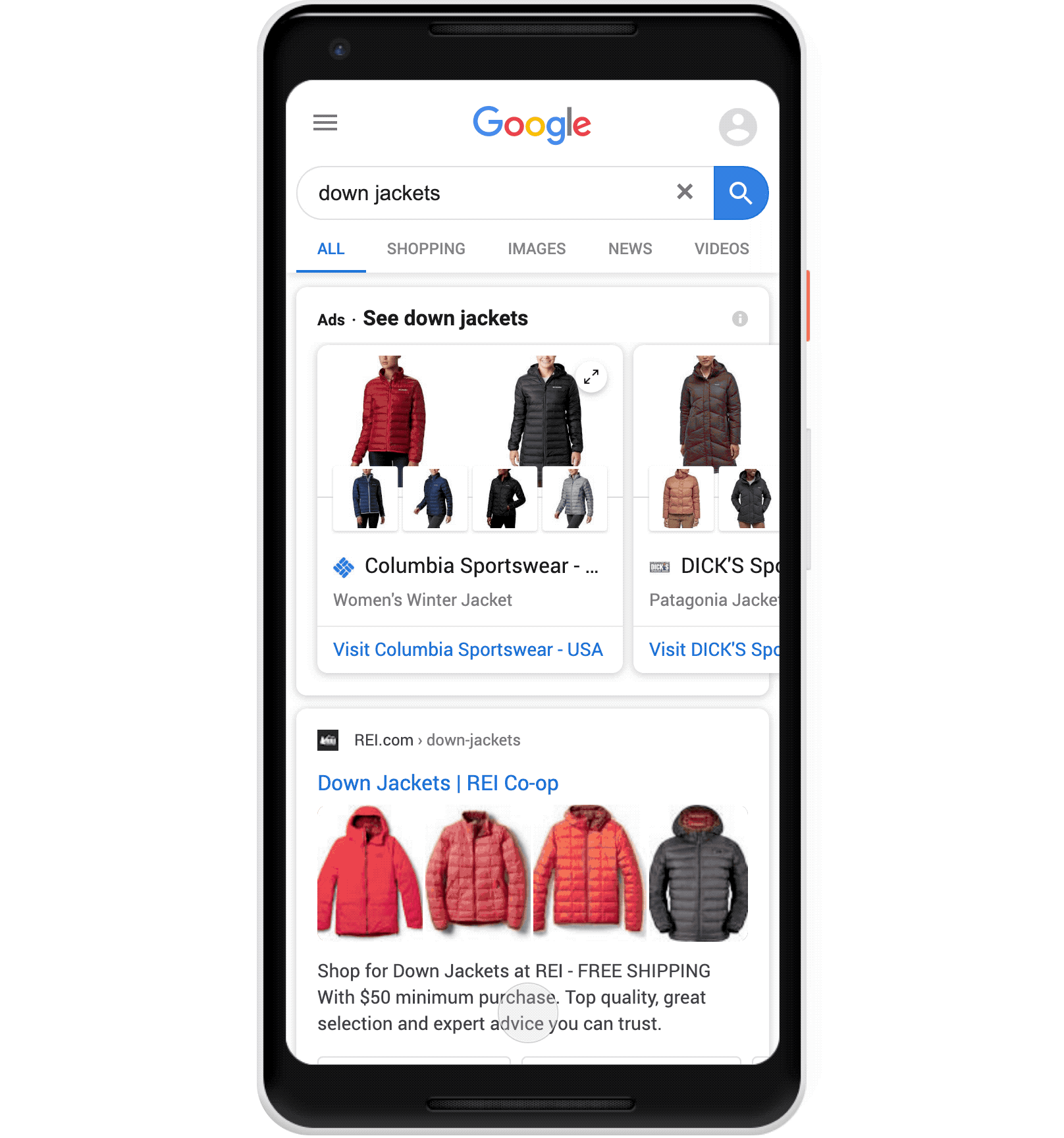 Credit: Google
Customers will be able to find your products and stores on the Google search result page of their mobile phones. One advantage to note, is that the product result fold is shown above the classic links, giving it better visibility. This is all part of Google's great plan for a richer user search experience.
Popular Product – Free shopping listings.
This is very useful for small to medium size retailers, as you now stand a chance to have your products listed on google search engine result page alongside all the big players with the proper setup of course. For those who are interested, Google has pointed out a few guidelines for product listing on surfaces across Google. 
You can also choose to opt out from showing your products on surfaces across Google by following the steps here.
The big question is, how will product listings be ranked organically for Google shopping?
We are not exactly sure, but all eyes are on Google to see how that will play out. In the meantime, here are some few suggestions on the next steps.
Setup your merchant center and upload your feed.

SEO optimization. If you haven't, push it up the pipeline.

Merge your PPC and SEO approach for maximum visibility.
It's time to make that move and stay ahead or on par with competition. Don't hesitate to slide into my DMs if you need SEO or PPC consultation and tips.
10,714 View(s) Today