Now you can sell on Facebook Shop and Instagram Shop
In this time of digitalization and self quarantine, most of us are indulging in the convenience of online shopping. Everything you need and want to shop for is on the tip of your fingers. Search, add to cart, pay and it gets delivered straight to your doorstep.
Facebook is bringing a brand new shopping experience to both Facebook and Instagram users, it is called Facebook Shops and Instagram Shops respectively!
Here is what we know!
Facebook Shops is set up to make it easier for businesses to set up online stores that can be accessed on both Facebook and Instagram!
This platform is entirely free! Like your own store, you get to decide what to feature or highlight. You can also customize the look and feel of the shop to give a more authentic feel. 
If any of the customers need help during their shop in the store, they will be able to reach the business owners through WhatsApp, Messenger or Instagram Direct to ask questions, get customer support and more. Facebooks says that we will be able to add to their shopping cart and make purchases right within a chat of WhatsApp, messenger or Instagram Direct in the future.
Facebook shop has been rolled out the same day as their introduction, which is on May 19, 2020. They are also investing in features across the apps like Instagram Shop, live shopping and more to ensure that we have one of the easiest shopping experiences.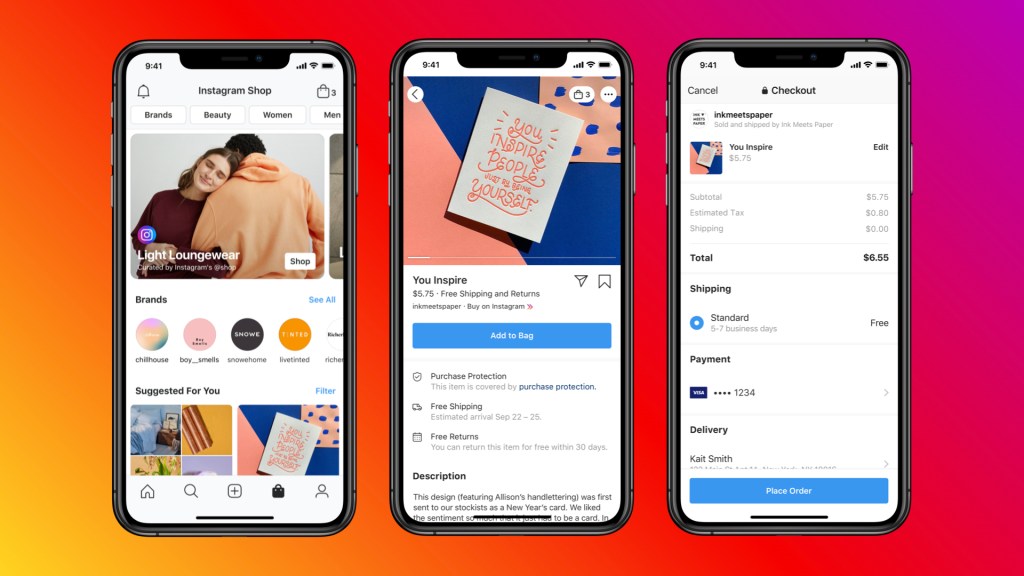 Instagram Shop is the new way to discover and buy products. It is similar to how we discover new influencers around our area. Now you can filter products by categories such as beauty and home and purchase it all without leaving the app – a seamless shopping experience!
Instagram will be rolling this out to the US this coming summer. Then later in the year, Instagram will be adding a dedicated tab to the navigation bar of the Instagram app for us to be able to access it directly next time. 
Live Shopping Features
I'm sure you have seen content creators and businesses making use of the "go live" feature to showcase a new product or give an announcement. Instagram has come up with this new feature to allow content creators or sellers to tag the product directly from their Facebook or Instagram shop before going live. These products will be displayed at the bottom of the video and people will be able to click on it to find out more. This will be rolled out soon since they are currently testing it now.
Loyalty Programmes 
We love us a good reward system for spending (Shoutout to GrabPay)! Instagram is currently exploring ways to help businesses connect their loyalty program into Facebook shop or just create one from scratch. So, we just need to wait and see for this!
Partner up!
Facebook is looking to work with partners like Shopify, BigCommerce, WooCommerce, ChannelAdvisor, CedCommerce, Cafe24, Tienda Nube and Feedonomics to support smaller businesses that are looking to use this platform. 
"These organisations offer powerful tools to help entrepreneurs start and run their businesses and move online. Now, they'll help small businesses build and grow their shops on Facebook and use our other commerce tools."
You can convert your Facebook page to a shop by following these steps. If you don't have a facebook page, then go create a facebook page and a product catalog.
This will also be a good time to set up an Instagram profile and tag products from your product catalog to your Instagram posts and stories, in anticipation of the Instagram shop launching in your region.